THIS LAND IS YOUR LAND
2009 studio version
---
This land is your land, this land is my land
From California to the New York Island
From the Redwood Forest to the Gulf Stream waters
This land was made for you and me

As I went walking that ribbon highway
I saw above me an endless skyway
I saw below me the golden valley
It said this land was made for you and me

I roamed and rambled and I followed my footsteps
The sparkling sands of her diamond deserts
And all around me a voice was sounding
It said this land was made for you and me

There was a high wall there that tried to stop me
A sign was painted, it said no trespassing
But on the back side didn't say nothing
Yeah that sign is made for you and me

When the sun came shining and I was strolling
Through the wheat fields waving and the dust clouds rolling
A voice was chanting as the fog was lifting
It said this land was made for you and me

One bright Sunday morning in the shadow of the steeple
By the Relief Office I saw my people
And they stood hungry, I stood there wondering
If this land was made for you and me

This land is your land, this land is my land
From California to the New York Islands
From the Redwood Forest to the Gulf Stream waters
This land was made for you and me
---
Info
The above lyrics are for a solo acoustic studio version of THIS LAND IS YOUR LAND recorded in 2009. It was used in the 2009 documentary The People Speak, closing the film before the credits roll. The documentary was released on home video the following year.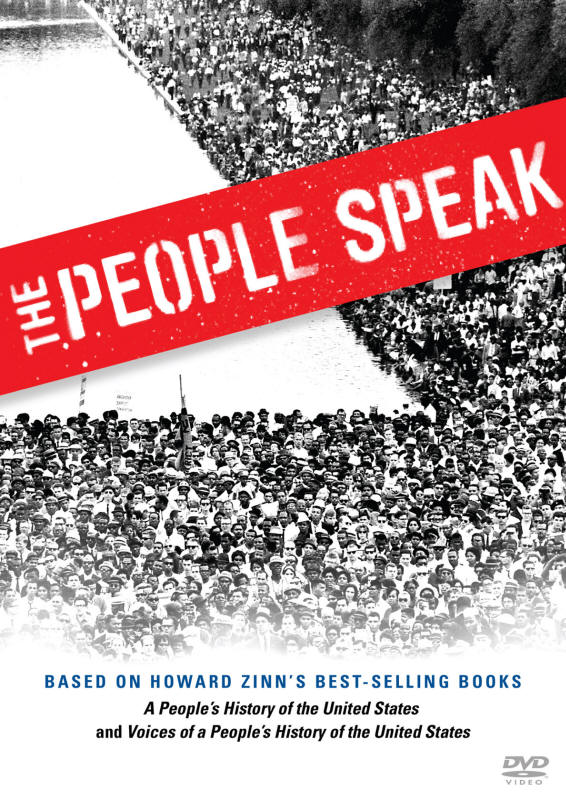 The People Speak

DVD - A&e Home Video (AAAE211940) - USA, 2010

Released on 09 Feb 2010.

Bruce Springsteen was inspired by the works of historian and activist Howard Zinn. In an interview published in the 15 Nov 2007 issue of Rolling Stone, he told Joe Levy: "Howard Zinn's A People's History Of The United States had an enormous impact on me. It set me down in a place that I recognized and felt I had a claim to. It made me feel that I was a player in this moment in history, as we all are, and that this moment in history was mine, somehow, to do with whatever I could. It gave me a sense of myself in the context of this huge American experience and empowered me to feel that in my small way, I had something to say, I could do something. It made me feel a part of history, and gave me life as a participant."
The People Speak is a 2009 documentary narrated by historian Howard Zinn and is based on his books A People's History Of The United States and, with Anthony Arnove, Voices Of A People's History Of The United States. It premiered on History on 13 Dec 2009. The film weaves archival footage and interviews with musical performances and dramatic readings of the letters, diaries, and speeches of everyday Americans throughout the country's history. Most of the movie was shot on location in front of a live audiences at the Cutler Majestic Theatre in Boston, MA, in January 2008 and at the Malibu Performing Arts Center in Malibu, CA, in 2008. Other performances from around the country filmed in 2008 and 2009 were also used.
For the film, Bruce Springsteen recorded two new solo acoustic renditions (guitar and harmonica) of THE GHOST OF TOM JOAD and Woody Guthrie's THIS LAND IS YOUR LAND. The performances were filmed live at his home studio in New Jersey probably around early 2009. Interestingly, promotional footage for The People Speak shows that Howard Zinn was present at Springsteen's home when the two songs were recorded. THIS LAND IS YOUR LAND was used in the documentary, closing the film before the credits roll, while THE GHOST OF TOM JOAD was posted on Bruce Springsteen's official website in January 2010. Later in 2009 a new version of THE GHOST OF TOM JOAD was recorded (in the same arrangement) and released exclusively on The People Speak soundtrack album.
Actor Josh Brolin (who's featured in the film and also co-produced it) was instrumental in getting some of the production's biggest names on board, including Bruce Springsteen. "We brought in Bruce Springsteen. It turned out Bruce was a massive fan of Howard's," Brolin told USA Today in a 2009 interview. Springsteen taped his parts in New Jersey while Brolin was at work. "They ended up spending five or six hours. And I got this little card from Bruce Springsteen that said, 'Josh, thank you so much for making my childhood dream come true. I had the greatest day of my life.' I was very stoked," Brolin said.
Available Versions
List of available versions of THIS LAND IS YOUR LAND on this website:
THIS LAND IS YOUR LAND [1988 studio version]
THIS LAND IS YOUR LAND [2009 studio version]
THIS LAND IS YOUR LAND [Live 28 Dec 1980 version]
THIS LAND IS YOUR LAND [Live 29 Dec 1980 version]
THIS LAND IS YOUR LAND [Live 31 Dec 1980 version]
THIS LAND IS YOUR LAND [Live 18 Apr 1981 version]
THIS LAND IS YOUR LAND [Live 19 Apr 1981 version]
THIS LAND IS YOUR LAND [Live 28 Apr 1981 version]
THIS LAND IS YOUR LAND [Live 02 May 1981 version]
THIS LAND IS YOUR LAND [Live 05 May 1981 version]
THIS LAND IS YOUR LAND [Live 07 May 1981 version]
THIS LAND IS YOUR LAND [Live 08 May 1981 version]
THIS LAND IS YOUR LAND [Live 11 May 1981 version]
THIS LAND IS YOUR LAND [Live 13 May 1981 version]
THIS LAND IS YOUR LAND [Live 26 May 1981 version]
THIS LAND IS YOUR LAND [Live 14 Jun 1981 version]
THIS LAND IS YOUR LAND [Live 20 Aug 1981 version]
THIS LAND IS YOUR LAND [Live 14 Sep 1981 version]
THIS LAND IS YOUR LAND [Live 09 Aug 1985 version]
THIS LAND IS YOUR LAND [Live 04 Sep 1985 version]
THIS LAND IS YOUR LAND [Live 06 Sep 1985 version]
THIS LAND IS YOUR LAND [Live 30 Sep 1985 version]
THIS LAND IS YOUR LAND [Live 29 Sep 1996 version]
THIS LAND IS YOUR LAND [Live 04 Oct 2008 version]
THIS LAND IS YOUR LAND [Live 05 Oct 2008 version]
THIS LAND IS YOUR LAND [Live 06 Oct 2008 version]
THIS LAND IS YOUR LAND [Live 02 Nov 2008 version]
THIS LAND IS YOUR LAND [Live 18 Jan 2009 version]
THIS LAND IS YOUR LAND [Live 03 May 2009 version]
THIS LAND IS YOUR LAND [Live 15 Mar 2012 version]
THIS LAND IS YOUR LAND [Live 18 Oct 2012 (Parma, OH) version]
THIS LAND IS YOUR LAND [Original Woody Guthrie version]
---
Page last updated: 11 Sep 2016