4TH OF JULY, ASBURY PARK (SANDY)
Live 23 Jul 1973 (early show) version
---
And one

It's too noisy up here.

Oh, Sandy, the fireworks are hailin' over Little Eden tonight
Sparkin' a light in all those empty faces staring up on this warm July
Down in town the streets are full of switchblade lovers, so fast, so shiny, so sharp
Them wizards play down on Pinball Way on the boardwalk way past dark
And them Casino boys dance with their shirts open down upon the shore
Ah, catching all them silly New York girls by the score

So Sandy, the aurora is rising behind us
The pier lights our carnival life forever
Oh, love me tonight, I promise I'll love you forever

Well, now, the greasers, they tramp the streets or get busted for sleeping on the beach at night
And them boys in their high heels, oh, Sandy, their skins are so white
And me, I'm tired working in this dusty old arcade and fixin' these machines
Chasin' them factory girls under the boardwalk where they unsnap their jeans
And you know that tilt-a-whirl down on the south beach drag
I got on it last night and my shirt got caught
That Joey kept me spinnin'
No, he wouldn't let me off

So Sandy, the aurora is rising behind us
This pier lights our carnival life forever
Oh, love me tonight, I promise I'll love you forever

Well, now, Sandy, them north side angels lost their desire for us
I talked to 'em last night and they said they won't set themselves on fire for us anymore
But the weather gets hot and every season, oh, they still come and they go
Oh, parkin' with their honeys way down south on the Kokomo
Did you hear the cops, they busted Madame Marie for tellin' fortunes better than they do
Guess it don't matter much anymore, pretty soon summer will be through

Oh, Sandy, the aurora is rising behind us
This beach life, oh, it cannot go on forever
Oh, love me tonight, I promise I'll love you forever
Sandy
---
Info
The above lyrics are for the live 23 Jul Aug 1973 (early show) performance of 4TH OF JULY, ASBURY PARK (SANDY) at Max's Kansas City in New York City, NY, during what is considered the Greetings From Asbury Park, N.J. Tour. The song featured an acoustic arrangement with Bruce Springsteen on guitar and Danny Federici on accordion, and the lyrics are similar to those in the original studio version.
Bruce Springsteen and his band played six nights, two shows each night, from 18 to 23 Jul 1973 at Max's Kansas City in New York City, NY. These were double-bill shows, with The Wailers (led by Bob Marley) opening and Springsteen and his band headlining. This was The Wailers' first-ever USA tour, which had started the week before with a 6-night (12-show) headlining stint in Boston, MA.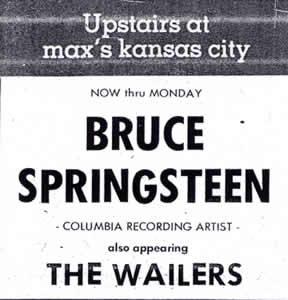 Promotional ad for the July 1973 six-night stand at Max's Kansas City, New York City, NY
(
Taken from Brucebase
)
Credits / References
Thanks Jake (ol'catfishinthelake at BTX and Greasy Lake). Some of the above information is taken from Brucebase.
Available Versions
List of available versions of 4TH OF JULY, ASBURY PARK (SANDY) on this website:
4TH OF JULY, ASBURY PARK (SANDY) [Album version]
4TH OF JULY, ASBURY PARK (SANDY) [Original studio version]
4TH OF JULY, ASBURY PARK (SANDY) [Early draft]
4TH OF JULY, ASBURY PARK (SANDY) [Live 23 Jul 1973 (early show) version]
4TH OF JULY, ASBURY PARK (SANDY) [Live 31 Jul 1973 (late show) version]
4TH OF JULY, ASBURY PARK (SANDY) [Live 31 Oct 1973 (late show) version]
4TH OF JULY, ASBURY PARK (SANDY) [Live 03 Mar 1974 (late show) version]
4TH OF JULY, ASBURY PARK (SANDY) [Live 09 Apr 1974 version]
4TH OF JULY, ASBURY PARK (SANDY) [Live 29 Oct 1974 version]
4TH OF JULY, ASBURY PARK (SANDY) [Live 05 Feb 1975 version]
4TH OF JULY, ASBURY PARK (SANDY) [Live 02 Oct 1975 version]
4TH OF JULY, ASBURY PARK (SANDY) [Live 18 Nov 1975 version]
4TH OF JULY, ASBURY PARK (SANDY) [Live 31 Dec 1975 version]
4TH OF JULY, ASBURY PARK (SANDY) [Live 07 Apr 1976 version]
4TH OF JULY, ASBURY PARK (SANDY) [Live 04 Nov 1976 version]
4TH OF JULY, ASBURY PARK (SANDY) [Live 09 Aug 1978 version]
4TH OF JULY, ASBURY PARK (SANDY) [Live 29 Dec 1980 version]
4TH OF JULY, ASBURY PARK (SANDY) [Live 31 Dec 1980 version]
4TH OF JULY, ASBURY PARK (SANDY) [Live 30 Jul 1992 version]
4TH OF JULY, ASBURY PARK (SANDY) [Live 10 Aug 1992 version]
4TH OF JULY, ASBURY PARK (SANDY) [Live 24 Nov 1996 version]
4TH OF JULY, ASBURY PARK (SANDY) [Live 26 Nov 1996 version]
4TH OF JULY, ASBURY PARK (SANDY) [Live 15 Feb 1997 version]
4TH OF JULY, ASBURY PARK (SANDY) [Live 11 Aug 1999 version]
4TH OF JULY, ASBURY PARK (SANDY) [Live 12 May 2003 version]
4TH OF JULY, ASBURY PARK (SANDY) [Live 18 Jul 2005 version]
4TH OF JULY, ASBURY PARK (SANDY) [Live 20 Mar 2008 version]
4TH OF JULY, ASBURY PARK (SANDY) [Live 22 Apr 2008 version]
4TH OF JULY, ASBURY PARK (SANDY) [Live 04 Jul 2008 version]
4TH OF JULY, ASBURY PARK (SANDY) [Live 30 Aug 2008 version]
4TH OF JULY, ASBURY PARK (SANDY) [Live 07 Nov 2009 version]
4TH OF JULY, ASBURY PARK (SANDY) [Live 23 Feb 2014 version]
4TH OF JULY, ASBURY PARK (SANDY) [The Hollies' cover version]
4TH OF JULY, ASBURY PARK (SANDY) [Ben E. King's cover version]
---
Page last updated: 31 Mar 2012