HAVING A PARTY
Live 15 Aug 1982 version
---
[Spoken intro:] That's pretty close, huh? All right, this is for, uh, this is for all the people that were around in, I guess the summer of '76. Just fired it -- you guys weren't around in summer of '76, man!

We're havin' a party
Everybody's swingin'
Dancin' to the music
On the radio
Now listen, Mister DJ
Keep those records playin'
'Cause I'm havin' such a good time
Dancin' with my baby

We're havin' a party
Everybody's swingin'
Dancin' to the music
On the radio
So listen, Mister DJ
Keep those records playin'
'Cause I'm havin' such a good time
Dancin' with my baby

Everybody's swingin'
Obie's doin' the twist, now
If you take requests, I
Got a few for you
Don't forget the "Soul Twist"
Play that song called "I Know"
You got play "Sue Me"
No other song will do

(We're havin' a party)
'Cause we're havin' a party
Everybody's swingin', oh, yes
Dancin' to the music
On the radio
So listen, Mister DJ
Keep those records playin' (records)
'Cause I'm havin' such a good time
Dancin' with my baby
Play it now, somebody! On the piano!

Throw me the guitar, I gotta keep going!

Everybody's swinging
Obie doin' the twist, now
If you take requests, I
Got a few for you
Don't forget the "Soul Twist"
Play that song called "I Know"
Don't forget "Sue Me"
No other songs will do
Come on, boys!
Everybody, now!

(We're havin' a party)
That's good!
(Everybody's swingin')
[recording cut]
---
Info
The above lyrics are for the live 15 Aug 1982 performance of HAVING A PARTY at The Stone Pony in Asbury Park, NJ, with Cats On A Smooth Surface.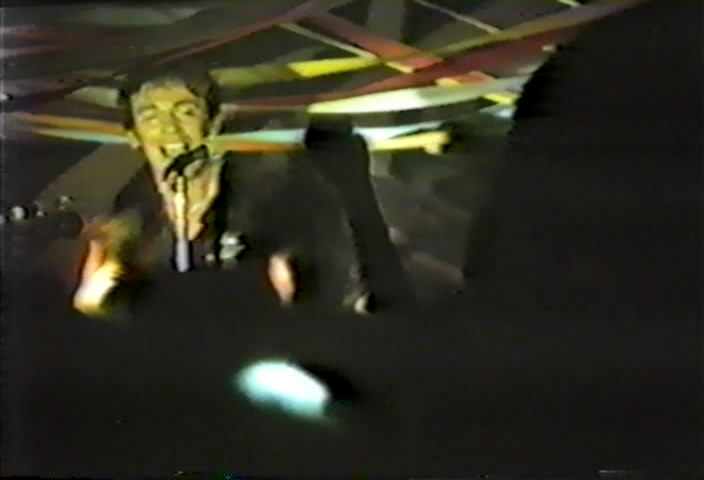 Bruce Springsteen and Southside Johnny performing HAVING A PARTY during the 15 Aug 1982 at The Stone Pony, Asbury Park, NJ (from audience shot video)
This was Cats On A Smooth Surface fourth anniversary party show, and Bruce Springsteen joined them on seven songs. Having learned about the event, he had requested a special rehearsal three days earlier at Tower Recording Studios in Farmingdale, NJ, where the Cats rehearsed. Audience tape and video footage filmed from the audience are circulating among fans.
Credits / References
Thanks Jake (ol'catfishinthelake at BTX and Greasy Lake) for the lyrics help. Some of the above info is taken from Brucebase.
Available Versions
List of available versions of HAVING A PARTY on this website:
HAVING A PARTY [Live 30 May 1976 version]
HAVING A PARTY [Live 13 May 1977 (early show) version]
HAVING A PARTY [Live 13 May 1977 (late show) version]
HAVING A PARTY [Live 13 Sep 1977 version]
HAVING A PARTY [Live 31 Dec 1977 version]
HAVING A PARTY [Live 31 Aug 1978 version]
HAVING A PARTY [Live 15 Aug 1982 version]
HAVING A PARTY [Live 02 Aug 1987 version]
HAVING A PARTY [Live 09 Aug 1987 version]
HAVING A PARTY [Live 24 Jun 1993 version]
HAVING A PARTY [Live 16 Jul 1994 version]
HAVING A PARTY [Live 29 Apr 2003 version]
HAVING A PARTY [Original Sam Cooke version]
---
Page last updated: 08 Oct 2011