WHEN YOU DANCE
Live 23 Oct 1971 version
---
Oh, when you dance, ah come on mama hold me tight
With romance, ah kiss me baby in the night
When you move, don't you know I love you so
It's a groove, when they turn the lights down low

Well come on mama, don't you go
There's no need to stand back
Bring your ??? me
Baby you know that's where I'm at

Oh when you smile, ah you will drive me wild
???, won't you be my partner child
When you love, ??? round and round
??? I want you for my only love

Come on mama, don't you go
There's no need to stand back
Bring your ??? me
Baby you know that's where I'm at

[9-minute instrumental]

Yeah when you dance, come on mama hold me tight
Make romance, ah kiss me baby in the night
When you move, well don't you know I love you so
It's a groove, I don't know if ??? let you go

Come on mama, don't you go
There's no need to stand back
Come on baby ??? me
Come on mama won't you come over
---
Info
The above lyrics are for the live 23 Oct 1971 performance of WHEN YOU DANCE at University Of Richmond in Richmond, VA, with The Bruce Springsteen Band.
The Bruce Springsteen Band played a triple-bill show 23 Oct 1971 at University Of Richmond in Richmond, VA. The show was held at the university's Keller Hall Gymnasium. The Bruce Springsteen Band was the headliner and Tumbleweed and Black Forrest Rhodes were the undercards. The Bruce Springsteen Band's trumpet player Harvey Cherlin and backup singers Barbara Dinkins and Delores Holmes were not present. The band comprised only of its five core members: Bruce Springsteen, Steven Van Zandt, Garry Tallent, David Sancious, and Vini Lopez.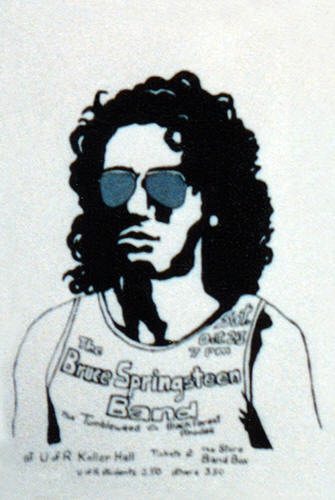 Promotional poster for the 23 Oct 1971 show at University Of Richmond, Richmond, VA
An excellent quality soundboard recording of The Bruce Springsteen Band set from this show is in the possession of a private collector. It consists of 12 songs, clocks at about 127 minutes, and is certainly the complete set. Ten songs from the recording, including WHEN YOU DANCE, have been circulating among collectors since the early eighties, but in inferior quality and incorrectly dated. The remaining two songs remain in the private collector's hands.
References
Most of the above info about the 23 Oct 1971 show is taken from Brucebase.
Request
Some of the above lyrics might be guessed or not correct, and they are open for revisions and corrections. If you can assist, please contact me via the below form or by email: . You will be credited. Thanks in advance.
Available Versions
List of available versions of WHEN YOU DANCE on this website:
WHEN YOU DANCE [Studio rehearsal version]
WHEN YOU DANCE [Live 23 Oct 1971 version]
WHEN YOU DANCE [Live Nov 1971 version]
WHEN YOU DANCE [Live Feb 1972 version]
WHEN YOU DANCE [Southside Johnny & The Asbury Jukes' cover version]
WHEN YOU DANCE [LaBamba & The Hubcaps' cover version]
---
Page last updated: 25 Jan 2017