ZERO AND BLIND TERRY
Live 23 Jul 1973 (early show) version
---
COMING SOON
---
Info
The above lyrics are for the live 23 Jul Aug 1973 (early show) performance of ZERO AND BLIND TERRY at Max's Kansas City in New York City, NY, during what is considered the Greetings From Asbury Park, N.J. Tour.
Bruce Springsteen and his band played six nights, two shows each night, from 18 to 23 Jul 1973 at Max's Kansas City in New York City, NY. These were double-bill shows, with The Wailers (led by Bob Marley) opening and Springsteen and his band headlining. This was The Wailers' first-ever USA tour, which had started the week before with a 6-night (12-show) headlining stint in Boston, MA.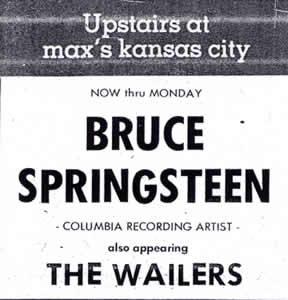 Promotional ad for the July 1973 six-night stand at Max's Kansas City, New York City, NY
(
Taken from Brucebase
)
One of the twelve shows (exact date remains unknown) was played almost exclusively to record executives and invited journalists. A review of this show was written by Lorraine O'Grady for the Village Voice, but went unpublished at the time as the editor did not believe either Springsteen or Marley would make it. The article was published in 2010 in Steven Kasher's book Max's Kansas City: Art, Glamour, Rock and Roll. In the article, O'Grady mentions that WILD BILLY'S CIRCUS STORY and ZERO AND BLIND TERRY were played on that show.
References
Some of the above information is taken from Brucebase.
Available Versions
List of available versions of ZERO AND BLIND TERRY on this website:
ZERO AND BLIND TERRY [Official studio version]
ZERO AND BLIND TERRY [Live 23 Jul 1973 (early show) version]
ZERO AND BLIND TERRY [Live 31 Oct 1973 (late show) version]
ZERO AND BLIND TERRY [Live 06 Jan 1974 version]
ZERO AND BLIND TERRY [Live 22 Nov 2005 version]
---
Page last updated: 28 Apr 2013