GROWIN' UP
Live 04 Nov 1976 version
---
[Spoken intro:] I went to do my, did my audition with this song, I remember. Yeah, I remember as I went up right to the record building, you know, all these lawyers... Everybody had one but me (chuckles). Professor! Please!
Aaaah, so what! (chuckles)
'Cause I was the one that...

Stood stone-like at midnight suspended in my masquerade
And I combed my hair till it looked just right and commanded the night brigade, whoa!
I was open to pain and crossed by the rain and I walked on a crooked crutch
I strode all alone into a fallout zone, came out with my soul untouched
Hid in the clouded wrath of the crowd, when they said "sit down" I stood up
Ooh, ooh, growin' up

The flag of piracy flew from my mast, my sails were set wing to wing
Well I had a jukebox graduate for first mate, she couldn't sail but she sure could sing
Pushed B-52, bombed 'em with the blues, my gear set stubborn on standing
I broke all the rules, strafed my old high school, never once gave thought to landing
I hid in the clouded wrath of the crowd, when they said "come down" I said "shut up"
Ooh, ooh, growin' up

Whoa, Big Man!

Aaaah!

[Spoken:] There we was. It was me and the Big Man and Miami. We were driving down this old dark road. All of a sudden we got a flat. We were in a '63 Impala, absolutely nothing done to it, a real piece of shit my old man gave me. It was the only thing we had to get around, and we were screaming down the back road. We must've been doing all of 55. Bam to the floor, bam (chuckles). That thing pfftzz as it was butting along (chuckles). Boom! Flat tire! Pull over, 'course we ain't got no spare. It's a budget operation (chuckles). So, we tried to convince Miami to run with it (chuckles). While we got to a gas station, we didn't know where we was. It was dark, it was so dark, there was no moon out. Everybody was hiding that night, there, there was trees, there was this deep dark forest, couldn't see nothing. It was me... And we looked, and we looked way off and deep in the forest we saw this light, just sort of shining there. We said, somebody must live back there. We oughta go, go find out, you know, get some help, you know. So, we stomp back through the woods, right? Getting mud all over us, right? And there in the middle of the forest was this old gypsy lady sitting around this fire. And so we walked up to her, she looked at us and said, "got a flat tire, huh?" We got a little, we felt a little nervous there, you know? Like how'd she know we got a flat tire, you know? It was like way out there on the road and we said "yeah". She said "well what'd they send you suckers back here for, huh? What'd you want? You just tell the old gypsy lady, she'll straighten you out right now. You guys, firstly you guys look like uh, you guys look..." we looked like a bunch of bums, it was about six years ago, right? And she says "first thing I do, you cats are not presentable", you know, "to do anything". So like she waved this, this stick, right? She waved this stick, and bam! Miami standing there in the red suit in the middle of the woods. Right? She waved it again. Boom! The Big Man's standing there in a white suit in the middle of the woods. She waved it again in front of me. Boom! Nothing happens. She says "don't work all the time" (chuckles), "some people gotta work at being bums, others are born that way", like (chuckles). So, I said "hey, gypsy lady, you owe me one" (chuckles), "you owe me one now" right? She said uh, "alright, alright", you know? She said "what can I, what can I do for you here?", you know? So like I thought real hard, you know? Said "well...", thought about a new transmission... Naw, ain't nothing's gonna help that old car out, right? That thing's a goner. Thought about, uh... She says "what are you gonna just tell me now? Wait a minute, you wanna be a king? You wanna be an emperor? You wanna own your own Pizza Hut? Just tell me, tell the gypsy lady, I'm right here!". I said "well, well to be honest with you, not to pull any punches, what I really had in mind was uh, I think I could dig uh, I think I could uh, I think I'd like uh, I think I wanna be, I think I wanna be, I think I wanna be a Rock 'N' Roll star! Whoa!

I took month-long vacations in the stratosphere, you know it's really hard to hold your breath
I swear I lost everything I ever loved or feared, I was the cosmic kid
My feet they finally took root in the earth, got me a nice little place in the stars
Swear I found the key to the universe in the engine of an old parked car
Hid in the clouded breast of the crowd, when they said "pull down" I fooled around, "pull up!"
Ooh, ooh, growin' up
Yeah, yeah, yeah, yeah
Growin' up

[Spoken outro:] Gonna let 'em have it, with my guitar!
---
Info
The above lyrics are for the live 04 Nov 1976 performance of GROWIN' UP at Palladium in New York City, NY, during what is known as The Lawsuit Tour. The song was played in a full-band, album-style arrangement, and featured a story in the break.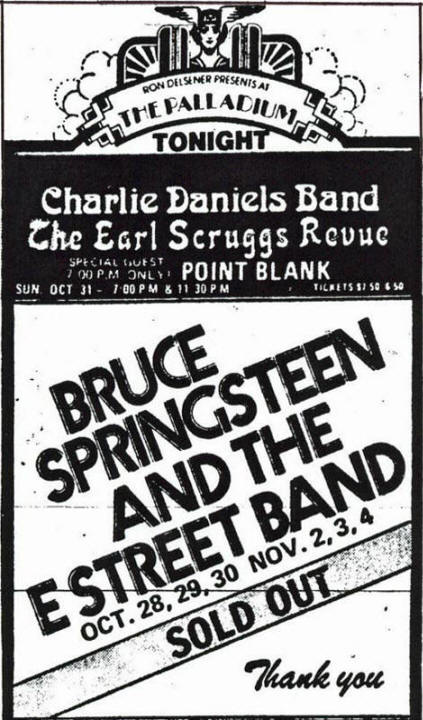 Promotional ad for the 1976 six-night stand at Palladium, New York City, NY
(
Taken from Brucebase
)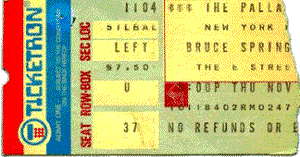 Ticket stub for the 04 Nov 1976 show at Palladium, New York City, NY
(
Taken from Brucebase
)
Despite the marvelous reception received by both Born To Run and the tour which followed, the relationship between Bruce Springsteen and his now former manager and producer Mike Appel was deteriorating. In July 1976 the storm broke; Mike Appel wrote to Springsteen saying that he would not allow Jon Landau (Springsteen's friend and co-producer of Born To Run) to produce the next album, citing a particular paragraph from their original agreement. Springsteen replied on 27 Jul 1976 by firing manager Mike Appel and suing him and his management company Laurel Canyon Ltd. in Federal Court in Manhattan, claiming fraud, breach of trust, and undue influence. Appel counter-sued on 29 Jul 1976 in New York State Supreme Court, asking the court to prohibit Springsteen and Jon Landau from working together in studio. Bruce Springsteen & The E Street Band were slated to enter the studio that year for the recording of a new album, except that on 15 Sep 1976 the judge in the lawsuits case ruled that Springsteen was enjoined from any further recording with Columbia Records until Appel's suit was resolved. This would drag for about a year. Meanwhile, Springsteen continued gigging, and in the process broke his self-imposed rule of not playing the larger arenas. This was basically because he was not able to put a record out, and it was the only way his fans would be able to hear him at all. The tour became known as "The Lawsuit Tour" (62 know dates, August 1976 to March 1977).
Credits
Thanks Jake (ol'catfishinthelake at BTX and Greasy Lake) for the lyrics help.
Available Versions
List of available versions of GROWIN' UP on this website:
GROWIN' UP [Album version]
GROWIN' UP [Outtake version]
GROWIN' UP [03 May 1972 demo version]
GROWIN' UP [Live Aug 1972 version]
GROWIN' UP [Live 31 May 1973 (WGOE-FM) version]
GROWIN' UP [Live 02 Jun 1973 version]
GROWIN' UP [Live 31 Oct 1973 (late show) version]
GROWIN' UP [Live 09 Mar 1974 (KLOL-FM) version]
GROWIN' UP [Live 09 Apr 1974 version]
GROWIN' UP [Live 05 Feb 1975 version]
GROWIN' UP [Live 23 Aug 1975 version]
GROWIN' UP [Live 13 Sep 1975 version]
GROWIN' UP [Live 30 Dec 1975 version]
GROWIN' UP [Live 07 Apr 1976 version]
GROWIN' UP [Live 07 Aug 1976 version]
GROWIN' UP [Live 30 Sep 1976 version]
GROWIN' UP [Live 25 Oct 1976 version]
GROWIN' UP [Live 27 Oct 1976 version]
GROWIN' UP [Live 04 Nov 1976 version]
GROWIN' UP [Live 13 Feb 1977 version]
GROWIN' UP [Live 23 Mar 1977 version]
GROWIN' UP [Live 24 Mar 1977 version]
GROWIN' UP [Live 31 May 1978 version]
GROWIN' UP [Live 25 Jun 1978 version]
GROWIN' UP [Live 05 Jul 1978 version]
GROWIN' UP [Live 07 Jul 1978 version]
GROWIN' UP [Live 04 Aug 1978 version]
GROWIN' UP [Live 09 Aug 1978 version]
GROWIN' UP [Live 15 Aug 1978 version]
GROWIN' UP [Live 01 Sep 1978 version]
GROWIN' UP [Live 20 Nov 1980 version]
GROWIN' UP [Live 27 Nov 1980 version]
GROWIN' UP [Live 26 Jan 1981 version]
GROWIN' UP [Live 24 Aug 1981 version]
GROWIN' UP [Live 20 Aug 1984 version]
GROWIN' UP [Live 14 Sep 1984 version]
GROWIN' UP [Live 02 Oct 1985 version]
GROWIN' UP [Live 07 Aug 1992 version]
GROWIN' UP [Live 22 Sep 1992 version]
GROWIN' UP [Live 08 Nov 1996 version]
GROWIN' UP [Live 24 Sep 1999 version]
GROWIN' UP [Live 19 Feb 2003 version]
GROWIN' UP [Live 20 Feb 2003 version]
GROWIN' UP [Live 02 Mar 2003 version]
GROWIN' UP [Live 24 May 2003 version]
GROWIN' UP [Live 22 Jun 2003 version]
GROWIN' UP [Live 11 Aug 2005 version]
GROWIN' UP [Live 22 Nov 2005 version]
GROWIN' UP [Live 11 Nov 2006 version]
GROWIN' UP [Live 17 Nov 2006 version]
GROWIN' UP [Live 22 Apr 2008 version]
GROWIN' UP [Live 27 Jul 2008 version]
GROWIN' UP [Live 21 Aug 2008 version]
GROWIN' UP [Live 21 Apr 2009 version]
GROWIN' UP [Live 23 Aug 2009 version]
GROWIN' UP [Live 30 Sep 2009 version]
GROWIN' UP [Live 22 Nov 2009 version]
GROWIN' UP [Live 01 Feb 2014 version]
GROWIN' UP [Live 24 Apr 2014 version]
GROWIN' UP [Live 23 Feb 2016 version]
GROWIN' UP [Live 29 May 2016 version]
GROWIN' UP [Live 03 Jul 2016 version]
GROWIN' UP [Live 05 Sep 2016 version]
GROWIN' UP [Live 07 Sep 2016 version]
GROWIN' UP [Live 11 Sep 2016 version]
GROWIN' UP [Live 14 Sep 2016 version]
GROWIN' UP [Any Trouble's cover version]
GROWIN' UP [David Bowie's cover version]
---
Page last updated: 18 Jan 2016