GROWIN' UP
Live 19 Feb 2003 version
---
Well I stood stone-like at midnight suspended in my masquerade
Yeah, I combed my hair till it was just right and commanded the night brigade
I was open to pain and crossed by the rain and I walked on a crooked crutch
But I strode all alone into a fallout zone, came out with my soul untouched
I hid in the clouded wrath of the crowd, but when they said "sit down" I stood up
Ooooh, growin' up

Well the flag of piracy flew from my mast, my sails were set wing to wing
I had a jukebox graduate for a first mate, she couldn't sail but she sure could sing
Well I pushed B-52 and bombed 'em with the blues with my gear set stubborn on standing
I broke all the rules, strafed my old high school, and never once gave thought to landing
I hid in the clouded wrath of the crowd, when they said "come down" I threw up
Yeah, yeah, growin' up

I took month-long vacations in the stratosphere and you know it's really hard to hold your breath
Yeah I swear I lost everything I ever loved or feared, I was the cosmic kid
Well my feet they finally took root in the earth but I got me a nice little place in the stars
I swear I found the key to the universe in the engine of an old parked car
I hid in the clouded wrath of the crowd, when they say "sit down" I stood up
Hmmm, growin' up
Yeah-eah, growin' up

[Spoken:] Thank you! Let's see, uh, early songs, very...

[line-by-line explanation of 'Blinded By The Light'...]

[...] Growin' Up. I'm not gonna do that again. But uh, (chuckles), Growin' Up was uh, that was pretty, pretty straight ahead, that was just sort of the youth that I imagined for myself that I probably didn't really have, except on occasion, you know. It was just one of those things once again just sort of a, an imagined youth I suppose, you know? But it, it, it caught something in it, maybe it was just a sense of fun, fun I was having with the words and, and uh, uh, the freeness I was having with language at the time just made me feel young, right? When you back to those songs they still feel fresh, you know? And those are the ones I always thought, would say, "Man, I didn't listen to that record for long time after I made it," you know. And I thought like I'd used up all the words and that was it, I wouldn't ever, (chuckles) I was done now. But uh, uh, that whole song once again, that one line, from Growin' Up was uh, "key to the universe, find the key to the engine of an old parked car." That was the line for me that, that, that, that, that made the song a success It meant that if you try hard enough, you can find it anywhere, you know. If you're, if you're willful enough, you can find it anywhere. And so that was, that was that song...
---
Info
The above lyrics are for the live 19 Feb 2003 performance of GROWIN' UP at Somerville Theatre in Somerville, MA, during the first of the two DoubleTake magazine benefit shows. The song was played solo on acoustic guitar and was followed by an extended spoken discussion.
Ticket stub for the 19 Feb 2003 show at Somerville Theatre, Somerville, MA
DoubleTake Magazine Benefit
Founded by Harvard psychiatrist Robert Coles, DoubleTake magazine has been in business since 1995, but started facing financial problems a few years later. Springsteen's relationship with the publication goes back to late 1997 when he was interviewed by Will Percy (nephew of the late Walker Percy, a writer/novelist Springsteen admired) at Springsteen's farmhouse in Rumson, NJ. Part of the audio-recorded interview was printed in the March 1998 issue of the magazine. The interview is probably one of the most philosophical of Springsteen's career -- it dealt with the effect books and movies have on Springsteen's writing and the culture of celebrity, among other things. Springsteen also became friend with magazine founder Robert Coles when the two met in 1998. He praised his book A Secular Mind, and even attended one of his classes in Harvard. In November 2004 Coles published in his book Bruce Springsteen's America - The People Listening, A Poet Singing.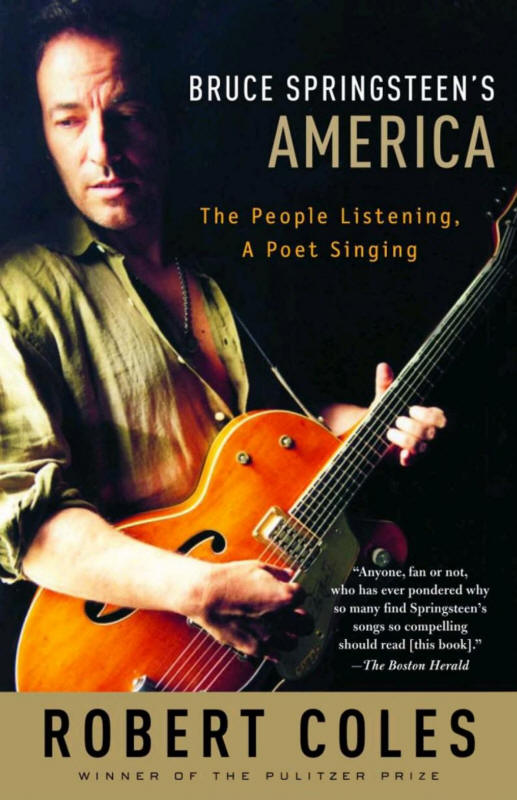 Robert Coles -- Bruce Springsteen's America - The People Listening, A Poet Singing (book cover)
Tickets for the two fundraisers were priced at $500 and billed as "An Intimate Evenings Of Music And Conversation With Bruce Springsteen". These were solo acoustic shows, played on acoustic guitar (or piano on a few songs), held at the small Somerville Theatre (900 seats capacity). Springsteen chatted between songs, and closed out each night with a Q&A session, taking questions from the audience. The unprecedented "conversation" element of the shows made them unique to Springsteen fans.
Promotional poster for the 19-20 Feb 2003 shows at Somerville Theatre, Somerville, MA
The almost one million dollars raised from the ticket sales went to the non-profit DoubleTake Community Service Organization Corporation, publishers of DoubleTake magazine, which owed $600,000 to vendors and contributors. "The concert was a success beyond our wildest dreams," managing editor Kirk Kicklighter commented, "[But] we never really had a plan for what we were going to do after the concert." By the fall of 2004, the magazine was no longer publishing, officially put on "hiatus".
Credits
Thanks Jake (ol'catfishinthelake at BTX and Greasy Lake) for the lyrics help.
Available Versions
List of available versions of GROWIN' UP on this website:
GROWIN' UP [Album version]
GROWIN' UP [Outtake version]
GROWIN' UP [03 May 1972 demo version]
GROWIN' UP [Live Aug 1972 version]
GROWIN' UP [Live 31 May 1973 (WGOE-FM) version]
GROWIN' UP [Live 02 Jun 1973 version]
GROWIN' UP [Live 31 Oct 1973 (late show) version]
GROWIN' UP [Live 09 Mar 1974 (KLOL-FM) version]
GROWIN' UP [Live 09 Apr 1974 version]
GROWIN' UP [Live 05 Feb 1975 version]
GROWIN' UP [Live 23 Aug 1975 version]
GROWIN' UP [Live 13 Sep 1975 version]
GROWIN' UP [Live 30 Dec 1975 version]
GROWIN' UP [Live 07 Apr 1976 version]
GROWIN' UP [Live 07 Aug 1976 version]
GROWIN' UP [Live 30 Sep 1976 version]
GROWIN' UP [Live 25 Oct 1976 version]
GROWIN' UP [Live 27 Oct 1976 version]
GROWIN' UP [Live 04 Nov 1976 version]
GROWIN' UP [Live 13 Feb 1977 version]
GROWIN' UP [Live 23 Mar 1977 version]
GROWIN' UP [Live 24 Mar 1977 version]
GROWIN' UP [Live 31 May 1978 version]
GROWIN' UP [Live 25 Jun 1978 version]
GROWIN' UP [Live 05 Jul 1978 version]
GROWIN' UP [Live 07 Jul 1978 version]
GROWIN' UP [Live 04 Aug 1978 version]
GROWIN' UP [Live 09 Aug 1978 version]
GROWIN' UP [Live 15 Aug 1978 version]
GROWIN' UP [Live 01 Sep 1978 version]
GROWIN' UP [Live 20 Nov 1980 version]
GROWIN' UP [Live 27 Nov 1980 version]
GROWIN' UP [Live 26 Jan 1981 version]
GROWIN' UP [Live 24 Aug 1981 version]
GROWIN' UP [Live 20 Aug 1984 version]
GROWIN' UP [Live 14 Sep 1984 version]
GROWIN' UP [Live 02 Oct 1985 version]
GROWIN' UP [Live 07 Aug 1992 version]
GROWIN' UP [Live 22 Sep 1992 version]
GROWIN' UP [Live 08 Nov 1996 version]
GROWIN' UP [Live 24 Sep 1999 version]
GROWIN' UP [Live 19 Feb 2003 version]
GROWIN' UP [Live 20 Feb 2003 version]
GROWIN' UP [Live 02 Mar 2003 version]
GROWIN' UP [Live 24 May 2003 version]
GROWIN' UP [Live 22 Jun 2003 version]
GROWIN' UP [Live 11 Aug 2005 version]
GROWIN' UP [Live 22 Nov 2005 version]
GROWIN' UP [Live 11 Nov 2006 version]
GROWIN' UP [Live 17 Nov 2006 version]
GROWIN' UP [Live 22 Apr 2008 version]
GROWIN' UP [Live 27 Jul 2008 version]
GROWIN' UP [Live 21 Aug 2008 version]
GROWIN' UP [Live 21 Apr 2009 version]
GROWIN' UP [Live 23 Aug 2009 version]
GROWIN' UP [Live 30 Sep 2009 version]
GROWIN' UP [Live 22 Nov 2009 version]
GROWIN' UP [Live 01 Feb 2014 version]
GROWIN' UP [Live 24 Apr 2014 version]
GROWIN' UP [Live 23 Feb 2016 version]
GROWIN' UP [Live 29 May 2016 version]
GROWIN' UP [Live 03 Jul 2016 version]
GROWIN' UP [Live 05 Sep 2016 version]
GROWIN' UP [Live 07 Sep 2016 version]
GROWIN' UP [Live 11 Sep 2016 version]
GROWIN' UP [Live 14 Sep 2016 version]
GROWIN' UP [Any Trouble's cover version]
GROWIN' UP [David Bowie's cover version]
---
Page last updated: 22 Jul 2010