GROWIN' UP
Live 25 Jun 1978 version
---
[Spoken Intro:] Everyplace I go, people come up to me, they say, "Bruce, how did you get like this?" And I have to think real hard. It's always to remember back more than week or two. But I remember one night, I was outside, it was a full moon, I was feeling a little crazy, oh yeah. (chuckles) You know what I'm talking about, damn. But the altitude is getting to you guys up there. (chuckles) And there I was, and I remember...

I stood stone-like at midnight suspended in my masquerade
And I combed my hair till it was just right and commanded the night brigade
I was open to pain and crossed by the rain, I walked on a crooked crutch
I strode all alone into a fallout zone, came out with my soul untouched
Hid in the clouded wrath of the crowd, when they said "sit down" I stood up
Ooh, ooh, growin' up

Well the flag of piracy flew from my mast, my sails were set wing to wing
Well I had a jukebox graduate for a first mate, she wouldn't sail but she sure could sing
Well I pushed B-52, bombed 'em with the blues, my gear set stubborn on standing
Well I broke all the rules, strafed my old high school, never once gave thought to landing
I hid in the clouded wrath of the crowd, when they said "come down" I threw up
Ooh, ooh, growin' up

Big Man!

[Spoken:] There we were. I remember, was me and the Big Man and Miami Steve. We had this flat tire, we were on this back road, and we didn't have no spare. So we're blaming each other and yelling at each other, and uh, we decided we'd try to drive the car home on the flat. (chuckles) If you've ever done that, you know that that's not too easy. We get in that sucker and it is bumping and grinding, sparks are flying out the, (chuckles) the right rear side. And finally we come to a crash in the swamps at the side of the road, and we just sit there in the dirt cursing and bitching. So, we were looking up at the sky, and all of a sudden, we seen something, we couldn't figure out what it was. Shooting, doing three rings around the moon, came scooting down, hit the planet, hit about five quick ones around the Route 36 Circle, came buzzing down towards us at about three million miles and hour, and passed us [weird guitar noise] by so fast, and like, we were all out there... It was about a mile down the road, the guy slams on his brakes, pulls back, sits right in front of us, hovering about ten feet off the ground. It's a candy-apple red flying saucer, chrome invader wheels, Hooker headers, and on the side it says: "Big Daddy Don Garlits - King Of The Dragsters". We said, "Oh yeah!" So we thought about getting a ride home with this guy. We had second thoughts, and then we heard some howling coming from the woods. [crowd starts to howl] We jumped as close as we can get to this thing. We're holding on tight, knock on the outside. The green guy sticks his head out, he says "Hey, do any of you three guys know the way to the New Jersey Turnpike?" Figured we had it made. We said, "Big Daddy, you are looking at the New Jersey Turnpike." Big Daddy says, "Well I gotta get on the Turnpike, get back to Mars, I'll give you guys one wish if you tell me how I can get there." So we thought about it real hard, we didn't wanna make it something too easy. No new cars, we had new clothes, girls, no. So we thought about it, we said, "Okay, Mr. Spaceman, what we want, and if... This is so cool that you can whip this up. What we want, is we wanna be movie stars." The guy said, "No way. You guys think at the looks. But, would you, would you settle for Rock 'N' Roll?"

I took month-long vacations in the stratosphere, you know it's really hard to hold your breath
I swear I lost everything I ever loved or feared, I was the cosmic kid
My feet they finally took root in the earth, got me a nice little place in the stars
I swear I found the key to the universe in the engine of an old parked car
Hid in the clouded wrath of the crowd, when they said "come down" we said...
Ooh, ooh, growin' up
Yeah, yeah, yeah, yeah
Growin' up
Hey!
---
Info
The above lyrics are for the live 25 Jun 1978 performance of GROWIN' UP at Paramount Northwest Theatre in Seattle, WA, during the Darkness On The Edge Of Town Tour. The song was played in a full-band, album-style arrangement, and featured a story in the break.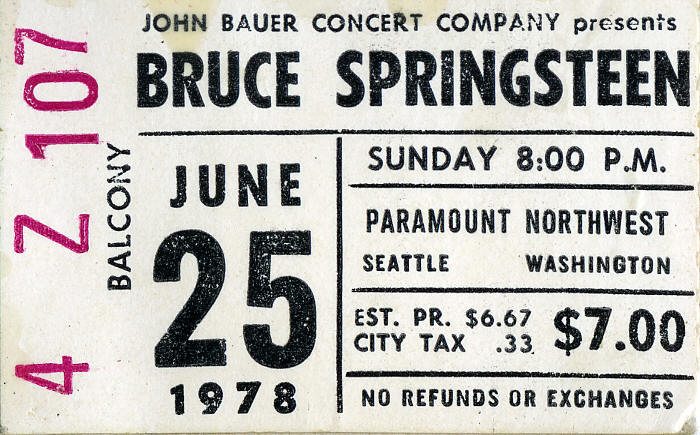 Ticket stub for the 25 Jun 1978 show at Paramount Northwest Theatre, Seattle, WA
Credits
Thanks Jake (ol'catfishinthelake at BTX and Greasy Lake) for the lyrics help.
Available Versions
List of available versions of GROWIN' UP on this website:
GROWIN' UP [Album version]
GROWIN' UP [Outtake version]
GROWIN' UP [03 May 1972 demo version]
GROWIN' UP [Live Aug 1972 version]
GROWIN' UP [Live 31 May 1973 (WGOE-FM) version]
GROWIN' UP [Live 02 Jun 1973 version]
GROWIN' UP [Live 31 Oct 1973 (late show) version]
GROWIN' UP [Live 09 Mar 1974 (KLOL-FM) version]
GROWIN' UP [Live 09 Apr 1974 version]
GROWIN' UP [Live 05 Feb 1975 version]
GROWIN' UP [Live 23 Aug 1975 version]
GROWIN' UP [Live 13 Sep 1975 version]
GROWIN' UP [Live 30 Dec 1975 version]
GROWIN' UP [Live 07 Apr 1976 version]
GROWIN' UP [Live 07 Aug 1976 version]
GROWIN' UP [Live 30 Sep 1976 version]
GROWIN' UP [Live 25 Oct 1976 version]
GROWIN' UP [Live 27 Oct 1976 version]
GROWIN' UP [Live 04 Nov 1976 version]
GROWIN' UP [Live 13 Feb 1977 version]
GROWIN' UP [Live 23 Mar 1977 version]
GROWIN' UP [Live 24 Mar 1977 version]
GROWIN' UP [Live 31 May 1978 version]
GROWIN' UP [Live 25 Jun 1978 version]
GROWIN' UP [Live 05 Jul 1978 version]
GROWIN' UP [Live 07 Jul 1978 version]
GROWIN' UP [Live 04 Aug 1978 version]
GROWIN' UP [Live 09 Aug 1978 version]
GROWIN' UP [Live 15 Aug 1978 version]
GROWIN' UP [Live 01 Sep 1978 version]
GROWIN' UP [Live 20 Nov 1980 version]
GROWIN' UP [Live 27 Nov 1980 version]
GROWIN' UP [Live 26 Jan 1981 version]
GROWIN' UP [Live 24 Aug 1981 version]
GROWIN' UP [Live 20 Aug 1984 version]
GROWIN' UP [Live 14 Sep 1984 version]
GROWIN' UP [Live 02 Oct 1985 version]
GROWIN' UP [Live 07 Aug 1992 version]
GROWIN' UP [Live 22 Sep 1992 version]
GROWIN' UP [Live 08 Nov 1996 version]
GROWIN' UP [Live 24 Sep 1999 version]
GROWIN' UP [Live 19 Feb 2003 version]
GROWIN' UP [Live 20 Feb 2003 version]
GROWIN' UP [Live 02 Mar 2003 version]
GROWIN' UP [Live 24 May 2003 version]
GROWIN' UP [Live 22 Jun 2003 version]
GROWIN' UP [Live 11 Aug 2005 version]
GROWIN' UP [Live 22 Nov 2005 version]
GROWIN' UP [Live 11 Nov 2006 version]
GROWIN' UP [Live 17 Nov 2006 version]
GROWIN' UP [Live 22 Apr 2008 version]
GROWIN' UP [Live 27 Jul 2008 version]
GROWIN' UP [Live 21 Aug 2008 version]
GROWIN' UP [Live 21 Apr 2009 version]
GROWIN' UP [Live 23 Aug 2009 version]
GROWIN' UP [Live 30 Sep 2009 version]
GROWIN' UP [Live 22 Nov 2009 version]
GROWIN' UP [Live 01 Feb 2014 version]
GROWIN' UP [Live 24 Apr 2014 version]
GROWIN' UP [Live 23 Feb 2016 version]
GROWIN' UP [Live 29 May 2016 version]
GROWIN' UP [Live 03 Jul 2016 version]
GROWIN' UP [Live 05 Sep 2016 version]
GROWIN' UP [Live 07 Sep 2016 version]
GROWIN' UP [Live 11 Sep 2016 version]
GROWIN' UP [Live 14 Sep 2016 version]
GROWIN' UP [Any Trouble's cover version]
GROWIN' UP [David Bowie's cover version]
---
Page last updated: 22 Jul 2010